Zdoo ManualBook Info
1

Introduction

2

Install and Upgrade

3

CRM

4

OA

5

Cashflow(Cash)

6

Project (Proj)

7

Document(Doc)

8

TEAM

9

Inventory(PSI)

10

Flow

11

Ameba

12

Administration

13

Integration

14

Customization
Integrate ZenTao
2017-01-06 13:37:00
tengfei
5601
Last edited by MCFEY on 2020-04-10 13:37:21
ZenTao ALM is developed by EasyCorp. It is It is the first project management software in China that is open source and for small and medium companies. ZenTao is developed by Agile methodology and is for Agile teams.
You can integrate ZenTao with Zdoo 2.7+. You don't have to install an extension to install ZenTao. Once integrated into Zdoo, you can use Zdoo account to login ZenTao which will be an App in Zdoo. You can add modules such as Project and Task to Zdoo.
1. Integrate ZenTao

Login as a super admin and click Profile->Admin->App and then click Create. Check Integrate ZenTao in the form.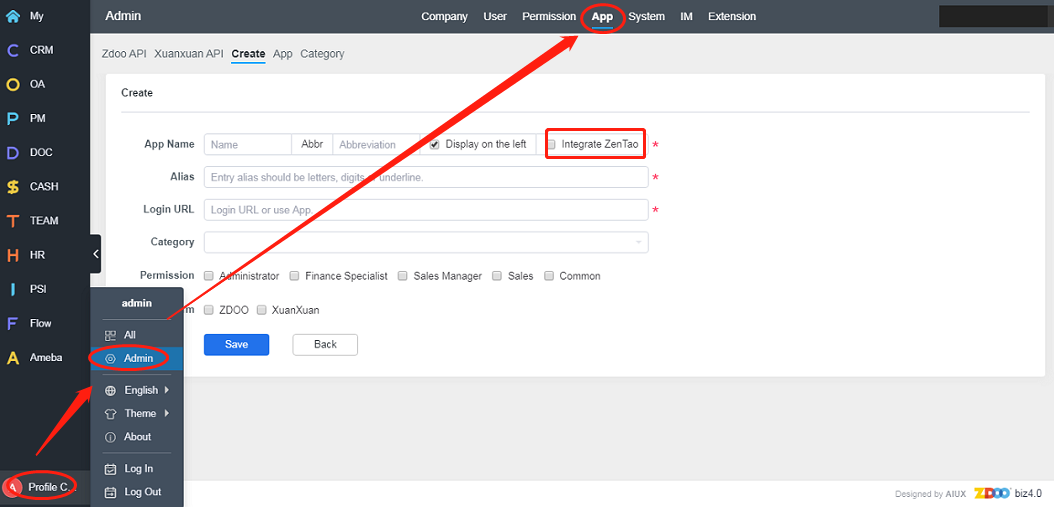 Fill in ZenTao URL. For example, http://demo.zentao.net/user-login-Lw==.html
ZenTao admin account has to be a super admin.
Grant privileges to groups that have access to ZenTao, or you can go to "Admin"->"Privilege" to assign privileges.


2. Bind ZenTao account

After ZenTao is added, you will be directed to bind your ZenTao account.

On this page, you can see Zdoo usernames listed on the left, and ZenTao users in the drop-down menu.
Note
Check "Create User" to create an account that does not exist in ZenTao, and this account will be created in ZenTao. In ZenTao, privilege to add a new account has to be granted.


3. Edit ZenTao

You can edit ZenTao and bind an account to it after it is integrated into Zdoo. ZenTao admin account and password will be asked to bind a user.