Zdoo ManualBook Info
1

Introduction

2

Install and Upgrade

3

CRM

4

OA

5

Cashflow(Cash)

6

Project (Proj)

7

Document(Doc)

8

TEAM

9

Inventory(PSI)

10

Flow

11

Ameba

12

Administration

13

Integration

14

Customization
Create Project
2019-08-12 13:52:04
Renee
2323
Last edited by MCFEY on 2020-05-13 10:14:18
Zdoo 4.0+ has separate Project as a module, so it would be more convenient for users to manage projects in Zdoo.
1. Create a project
Log in Zdoo, click "Project"->"Project"->"Create Project".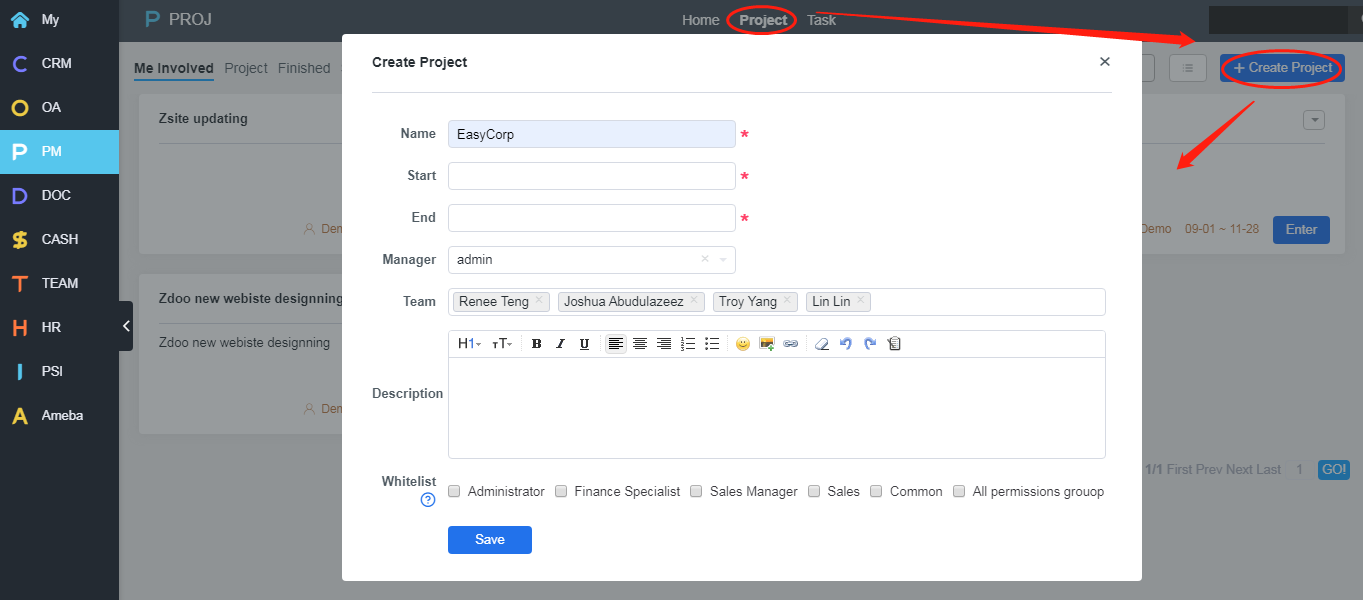 Note
You have to set a manager when creating a project.
You can add more than one members to your team. Search members by their real names and add them to your team.
You can set a time frame for your project.
You can set who can view your project by checking boxes of the Whitelist.
2. Set up your team
Click the triangle and choose Team from the drop-down.

Or click Project->Team on the details page of a project.

Users can be added in Admin->User->Add User. When managing your team, you have to pay attention to the privilege settings, including Default, Manager, and Limited User.

3. Project Document
When you create a project, a document library for the project will be created automatically. Click Document in the menu, and enter the document library.

You can also click "+" to create a library for the project.